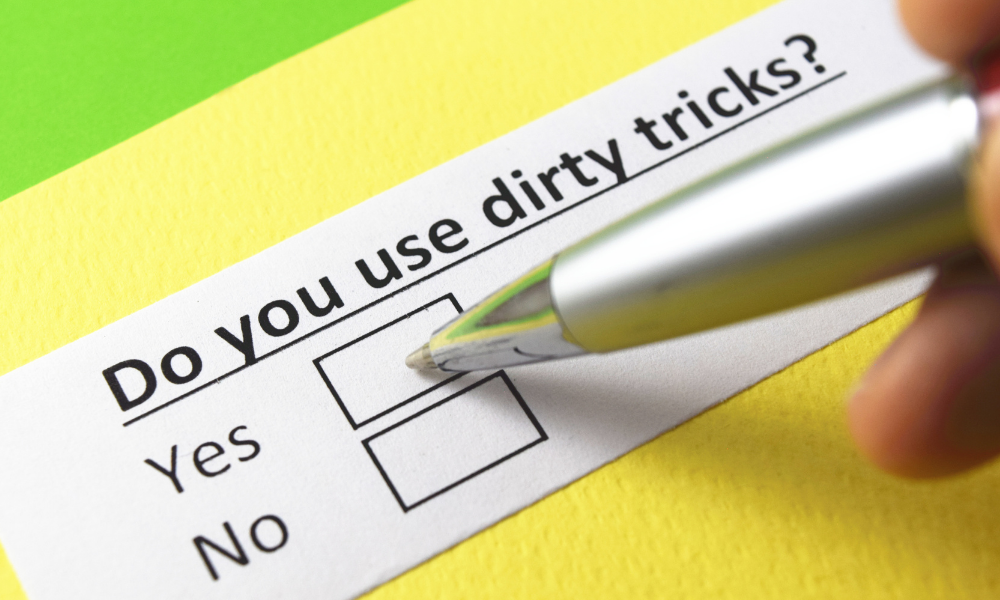 Some real estate agents and home sellers are calling this the dirtiest trick in the book.  Most have never experienced anything like this before but in reality, it had to happen.  
In one of the hottest real estate markets in Vancouver's history, something had to give.  When home seller's homes are commonly underprice by $200,000 and more to inspire fierce competition, a line of up hundreds of potential buyers and bidding wars of 30 to 50 or more buyers, something had to give.
And I don't blame the buyers or their agents for this.
It brings to mind the saying "Don't hate the player, hate the game."
The latest thing some buyers and real estate agents have resorted to is being called dirty, sneaky and misleading but can we really blame them.  

The Seller's underpricing strategy has forced the hand of those that refuse to lose... again.
So they got innovative.  

This new strategy is far from a trend but the real estate agent channels have shown it is happening and most agents are not very happy about it.
Before I get into this strategy, let me explain how the normal bidding war scenario plays out.
The first step is to place a home on the market below the market value.  The amount below the market would depend on the seller, their Realtor and the conclusion they come to on their marketing and pricing strategy.  The range can be from a few percent below market up to 20% below market.  

There is no real limitation or restriction to how far someone can go, as the price they list at is really just a 'Marketing Price'.  
Once they price the home, they don't allow any offers until a specific day and time.  They set up a sneak peek to build momentum, then show over a 4-8 hour window that week (could be more).  This lag time between initial showings and offers allows buyers to do their inspections, coordinate and confirm their financing, and complete their due diligence with the intent that they can come in with a clean offer.  
And for a long time, that is how it played out.  The Seller wins, their Realtor wins and one buyer wins.  
So buyers (and Realtors) adapt and get creative.  
Knowing how the game is played, a few agents and or buyers thought, what if there was a way to break down the current process?  What if we could beat all the other offers, knock out the competition and stop the process from working against me/us?

And this is what they came up with. 
Depending how hot the listing is (how much they underpriced), some buyers are now placing offers hundreds of thousands over the next best offer.  The offers they are giving are very enticing for any seller.  

Here is an example:
Let's pretend there is a property listed for sale at $1,398,000 and it's clearly a $1,600,000 value ($200,000 under priced).  At offer date, there are 34 offers being submitted, and it's likely that 10 of those will be no subject offers ranging between $50,000 to $400,000 over the asking price.  
Knowing this, one buyer decides to offer $2,500,000 and blows all the other offers out of the water.  The only catch is that this offer has a few subject clauses (maybe just one, subject to inspection).  
As this offer is a full $700,000 over the highest cash (no subject) offer, the seller decides to accept it.  
Here is where everything starts to unravel for the seller.  Once the offer has been accepted, all the work and efforts created to create this hysteric bidding war falls away.  It's almost impossible to duplicate.  

The buyer knows this, and succeeds in their quest eliminate the competition and the buzz around the property.  

Then once they secure the property and get to their subject removal deadline, they start to renegotiate. They say things like, I didn't realize putting in a suite would be so hard, or cost so much, or come up with many different 'reasons' why they can't pay the price.  They come back saying they will remove their subjects at a much lower price.
The most important thing I always recommend is to be objective, and not let greed get in the way of an intelligent decision.  
A cash offer (subject free) is always the goal in this situation.  
Be careful and make sure you are fully aware of the new real estate trends.  
Kevin Lynch
B & L Real Estate Group
www.BNLrealestate.com
cell: 604.307.9448
If you are media and want to discuss the ins and outs of this new, innovative and controversial Buyer Strategy, call my cell to set up an interview.
Kevin Lynch, real estate strategy, real estate market, vancouver real estate, vancouver real estate market, hot real estate market, kevin lynch real estate, kevin lynch in the new, kevin lynch top agent, vancouver real estate market.