As the Community Realtor for Upper Lonsdale, I take it on myself to add value to the community in many different ways.  Recently, I have hosted some fun, smaller contests that have been well received but I wanted to do so much more.
First thing I considered, is who needs some extra help.
Then it dawned on me that the schools are often in need of different things.  My assumption was things like support for school team gear would be an obvious win but after reviewing the local schools PAC websites it is clear that the needs go far beyond that.
It looks like there are many fun events they put on to raise funds and now I am thrilled to announce a NEW way they can really increase their revenues.  
Here is how the new Fundraising Program works:
My goal is to donate at least $3,000 and a higher target of $10,000 per year to each Upper Lonsdale school. To do this, I am committing donations for each of my Upper Lonsdale properties sold ($500 per condo sale and $1,000 per house).  The funds will be allocated based on which school my clients want to donate to.  If they have no preference, I will choose the closest of the six elementary schools in for Upper Lonsdale.
The Schools, PACs and community (including Upper Lonsdale  churches) are also welcome to get involved to help increase the volume of funds raised by sharing this program with their PAC members, and parents via any of their outgoing newsletters, and other outgoing information.  
With our innovative referral program we, we will automatically donate to the school or church where any referrals come from.  

First, I will make a $100 donation to the school for anyone sending me a legitimate referral.  Should that referral turn into a successful sale for me, I will make the full contribution as noted above.  
To reward each referring party, they will also receive a $500 Shopping vouchure to Queensdale Market (the vouchure is transferable).
In addition to being there to help support the school PAC and their financial goals, I am also available to help sponsor individual events.  
I love being an active part of the community and things like dunk tanks are always a hit.  I have hosted adult night poker tournaments, and love to be a part of fun events.  

In addition to my direct funding, I am also well connected to the community and am happy to help initiate fund raising through local businesses and local media.
The six Upper Lonsdale schools welcome to participate include Larson Elementary, Carisbrooke Elementary, Holy Trinity Elementary, Ecole Andre-Poilet, Braemar Elementary and Boundary Elementary.

Kevin Lynch
Upper Lonsdale Specialist and Community Realtor
604.307.9448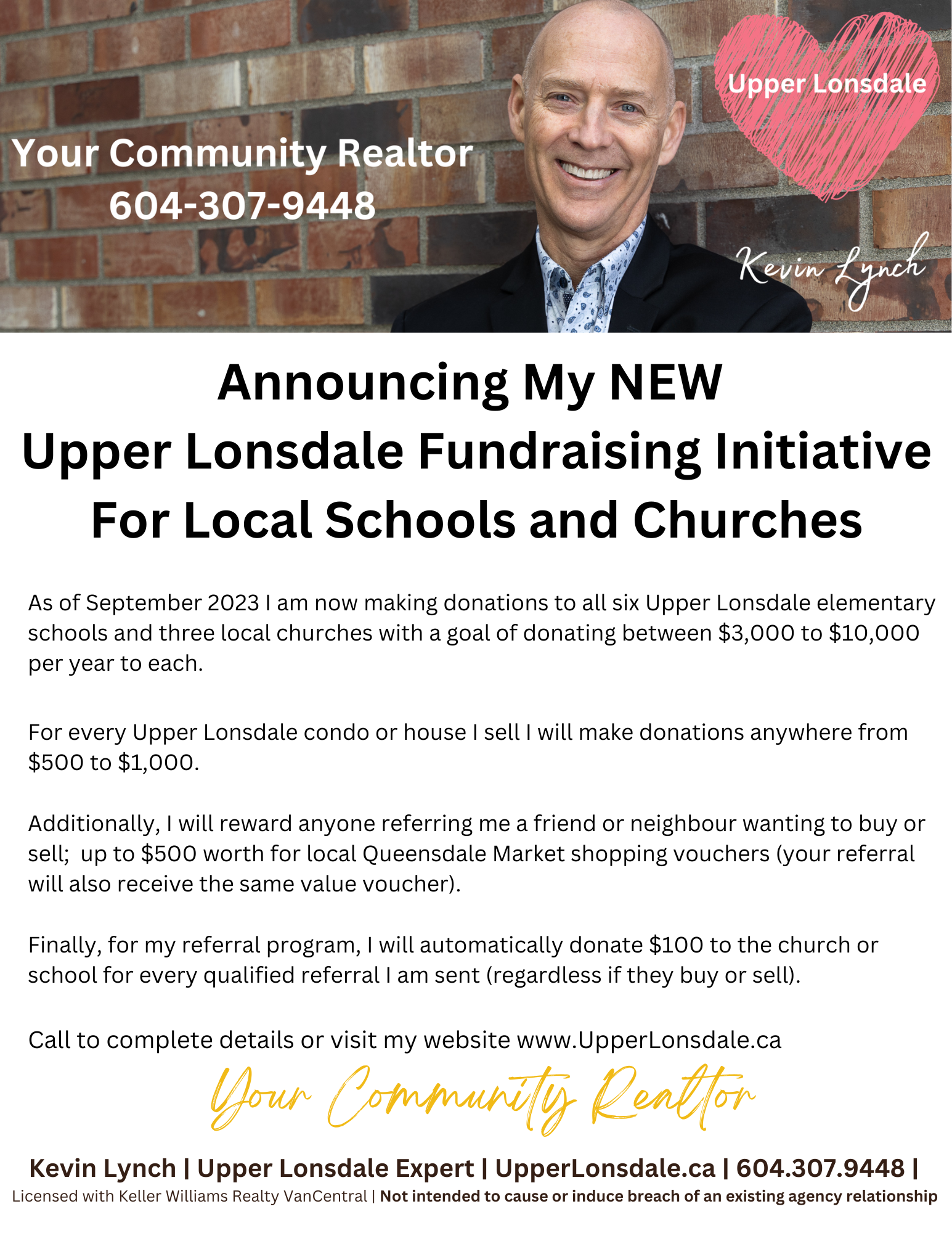 #upperlonsdale #upperlonsdalefunraiser #upperlonsdalenorthvan #upperlonsdalecommunityrealtor